Student Teaching
Student Teaching with NICS
Looking to Student Teach Internationally? NICS would love to partner with your University to help make this happen. We have 15 schools in 13 different countries and all of our schools are accredited. We will work directly with your University to ensure that all requirements are met for graduation. The first step to get this process started is to follow the link below and fill out the initial application. Once you have filled out the application our Mobilization Specialist will reach out to you to walk you through the next steps. We are excited to speak with you about what opportunities the Lord may have in store for you by Student Teaching with us!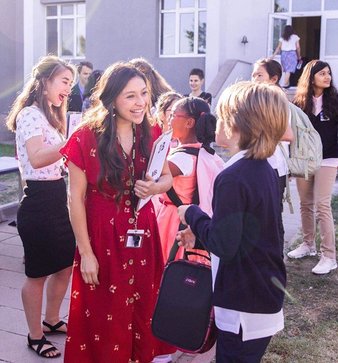 "Student teaching with NICS is easily one of the most rewarding and growing experiences I've encountered in my life. I have never been stretched as I was in my 7 weeks at AIS in Ghana. The staff and children became my light and hope in the midst of the difficultly that came from cultural transition from the states to Ghanaian life. I found joy in the midst of discomfort through the love that was evident in every interaction that I encountered. The warmth of Ghana goes deeper than the sun that shines closely on your skin— there is great warmth in the hearts of those in staff, students, and locals. I will forever be grateful to Jesus for bringing me to a school and organization that brought me a more intimate relationship with Him than I could have ever imagined possible. Through the challenges of transition, I learned an entirely new meaning of the word surrender. Thank you NICS for an opportunity that continues to pour into my life even today."
-Niki, Student Teacher 2018 (Current full-time teacher)
Frequently Asked Questions
When do I need to turn in an application?
Submit your application as quickly as possible once you determine that you are interested in student teaching abroad. The deadline for each Fall Semester will be January/February. The deadline for each Spring Semester will be June/July.
How much does it cost?
You will be paying out of pocket for travel expenses, food and any entertainment. Although we are unable to guarantee that your housing expenses will be covered, we will attempt to secure housing with another staff member in an effort to cover this cost.
Will I have a Supervising Teacher and Mentor Teacher?
Yes! We will place you with a Supervising teacher who will have 5+ years experience and your Mentor teacher will have 3+ years of experience.
How long will I be Student Teaching Overseas?
That depends on your University's requirements for graduation. Placements are typically from 4 to 8 weeks.