NICS

and

SIM

add Carachipampa Christian School to Network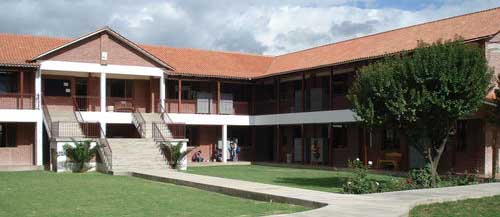 The Carachipampa Christian School (CCS) has operated as a ministry of SIM Bolivia since 1926. The school has a rich history of providing a quality, Christian education to missionary, local Bolivian, and international families. The school's website (www.carachipampa.org) notes, "Situated in the lower slopes of the Andes Mountains, close to Cochabamba, the 'city of eternal spring,' CCS is responsible for the education of nearly 175 children." Moreover, due in large part to changing dynamics in the school's make-up, recent changes in local Bolivian laws pertaining to international education, and mission priorities of SIM, NICS and SIM opened a dialogue several months ago about the possibility of transitioning the school to NICS management. NICS considers it an honor to be entrusted with the ongoing legacy of this wonderful school.
The mission and purpose of CCS and that of NICS are closely aligned. NICS is an evangelical mission agency specializing in operating and staffing international Christian schools around the world. Therefore, CCS is an excellent fit for the network, and all parties are convinced that this transition will be a win-win. After months of dialogue with key members of CCS and SIM Bolivia's leadership, NICS is pleased to announce that CCS is now officially a part of the network! The 2014-2015 school-year will be a transitional year, and NICS will begin fully managing the school in July 2015. While all staffing positions are filled for the upcoming school-year, NICS will be recruiting staff beginning in the Fall of 2014 for the 15/16 school-year.
CCS becomes the 20th school in the NICS network and the fifth school in South America. Approximately half of the network schools were founded by NICS while the remaining schools typically are schools like CCS which existed previously and later joined the network. NICS schools presently educate just under 5,000 students who come from 104 nations of the world.
For additional information on this project, please contact the NICS Director of New Projects, Blake Weaver, at 662-892-4305 or [email protected].